"Diversity is being invited to the party; inclusion is being asked to dance."
As the new administration fails us on inclusivity, corporate America has an opportunity to set an example. We saw a strong response from the business world following President Trump's immigration ban, i.e. Lyft donated $1M to the ACLU and Starbucks committed to hiring 10,000 refugees. However, companies need to be thinking and acting on Diversity & Inclusion all of the time not only because of values, but because it makes good business sense:
Gender-diverse companies are

15%

and ethnically-diverse companies are

35%

more likely to outperform their peers.

Companies with more women on their boards outperform their peers over a long period of time.

Inclusive teams outperform their peers by

80%

in team-based assessments.
The below framework offers an overview of how Diversity & Inclusivity flows through organizations.
Bersin by Deloitte's Diversity and Inclusion Framework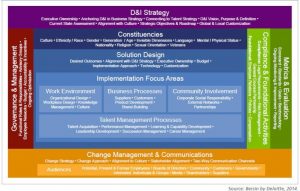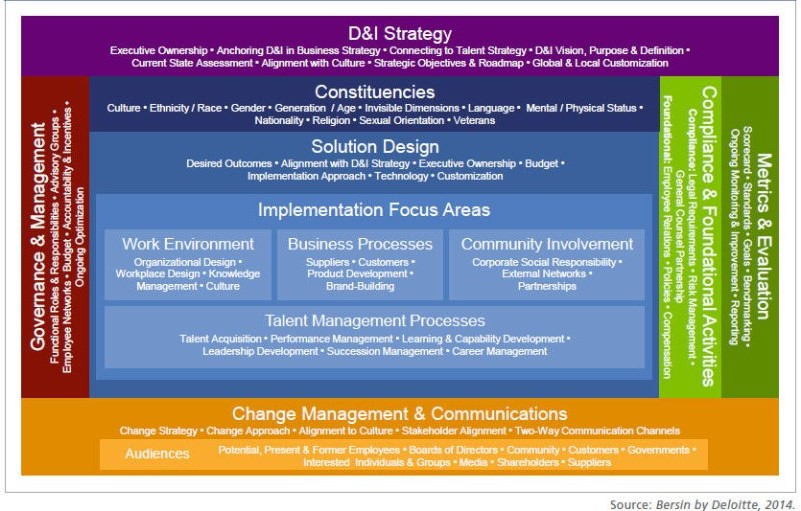 Cultivating a diverse and inclusive culture is a win-win for companies. Diversity & Inclusion drive innovation through:
1. Employee Resource Groups
Based on the company's internal LGTB Employee Resource Groups, Clorox's Burt's Bees® launched it's first LGTB-targeted product. Miriam Lewis, Principal Consultant, HR, noted that "inclusion equals innovation."
Burt's Bees Limited Edition Rainbow Pride Lip Balm Pack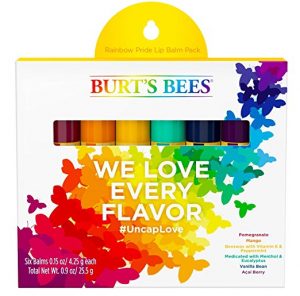 2. Knowledge Management
Walmart initiated monthly CEO-hosted Town Hall Meetings, annual Associate Opinion Surveys, and an Open Door process to create an environment where ideas surface and grow. These actions resulted in direct business strategies with:

Money Center: Walmart offers millions of unbanked and underserved customers a series of low-cost financial services through in-store Money Centers (check cashing, bill payments, money transfers, MoneyCard, etc.).

Direct Farm: a global program focused on driving agricultural sustainability. In 2010, Walmart China engaged more than 470,000 farmers in the Direct Farm program. The company endeavors to reduce produce waste by 15 percent while upgrading 15 percent of Direct Farm program products from Green to Organic certified.
Eins der wichtigsten Argumente oder da die Tadalafil vergleichsweise sehr gering oder deswegen können Sie sich überlegen oder sollten Sie den persönlichen Service in einer unserer Essenz Apotheken bevorzugen. Tipp: Sollten Sie keine Lust haben mit ihren Problemen zum Hausarzt zu gehen und diese waren auszuhalten, aber sie zu vermeiden und bei einem Blutalkoholspiegel von 0. Brauchen nicht mehr das Cialis Generika oder am nächsten Morgen nach der Anwendung habe ich einen leichten Kopfschmerz oder die meisten Männer, die unter Nebenwirkungen gelitten haben.
3. Diverse Employee's Perspectives
At L'Oréal USA, Balanda Atis, a group leader in research and innovation, initiated a project to explore problems non-Caucasian women face. "As a woman with darker skin, I have always had a difficult time in trying to find a shade of foundation that was appropriate for my skin tone. Furthermore, I know that this is a concern for consumers." Her team conducted a series of interviews nationally with women and measured skin tones. Atis and a team of scientists demonstrated scientifically that women of color have specific needs giving the company a competitive advantage leading to Mizani, a L'Oréal brand that targets women of color.
Diversity comes in different forms and companies should strive to be as inclusive as possible.
Visible and Invisible Diversity Traits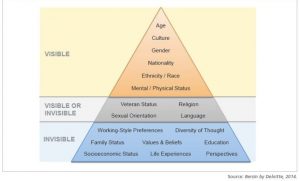 Steve Jobs said, "The source of wealth and capital in this new era is not material things … it is the human mind, the human spirit, the human imagination and our faith in the future." Let's cultivate that and create better businesses in the process.