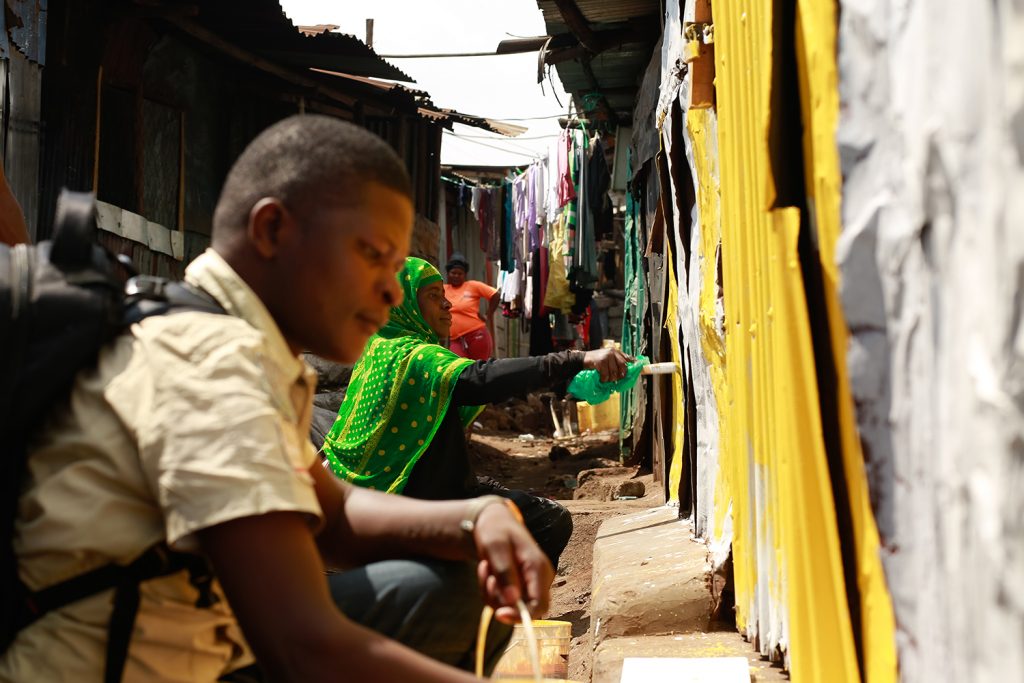 Colour in Faith is a global project conceived by limeSHIFT artist Yazmany Arboleda. It begins in Kenya with the intention to speckle the planet with yellow houses of worship. The colour yellow symbolizes light and dispels darkness.
In recent years, Kenya has been in the limelight on the global experience of increasing fundamentalist voices and acts of terror justified on religious grounds. This state of despair has hit every corner of the world, from Nice, to Paris, to Istanbul, to America. Colour in Faith begins a movement that reclaims these cities from those who wish them ill and reinstalls them into the hands of those who create art, culture and beauty.
The concept was developed in response to a call for an intervention that would facilitate a form of inclusive communication, and that would allow those who believe in acceptance, love and harmony to express these values, and reinforce them within themselves and with others. The call was also for collective action and strengthening of community. The result was a combination of civic engagement and peacebuilding with art, where a movement reinforcing religious pluralism would be created, culminating in a visual expression of love and harmony, through painting participating houses of worship yellow.
At the six-month mark, twenty houses of worship had committed to painting and the hosting organization, inCOMMONS (limeSHIFT partner) raised enough funds to paint three buildings. Colour in Faith received paint as a donation from Sadolin Paints. The East African Institute and Fatuma's Voice (a forum that uses art, poetry and music as a tool for youth to express themselves) hosted five tweet chats on the relationship of faith with leadership, radicalization and patriotism one of which trended third in Kenya and reached 1.5 million people (#YellowKE).
The first three buildings were painted in June. Muslims and Christians came together and painted while entertained by poets.  Painting the buildings represented a symbolic gesture that expressed growing community unity, belief in love and an expression of inclusivity as a result of the project. Local TV stations featured the project and its importance in creating cohesion and mitigating conflict in advance of the upcoming 2017 presidential election.
As resources are mobilized for more buildings, a new partnership has been developed with Nairobi City Hall. The project's first phase also unearthed the limitations and challenges of altering religious structures. Hierarchy, bureaucracy, and corruption encumber many religious institutions from responding quickly to social challenges. These challenges include prejudice, estrangement, fear, political fragility and a myriad of reasons that tear people apart instead of bringing them together. In response to this, we have decided to use the next phase of the project to design a space in the center of the city built by and for all faiths reflecting a new collective narrative outside of the walls of religion.
In addition to lifting the city's consciousness of Nairobi's historic cultural and religious pluralism, the space will use place-making to address safety and improve the pedestrian experience. The space will build community and cohesion and allow for conversation.