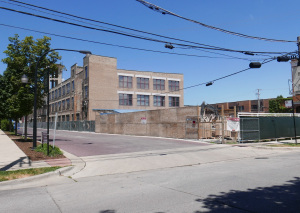 Earlier this summer when our team met with the Chicago Public Art Group, the muralist John Pitman Weber shared that at its core "art created collectively in public space allows for the re-birth of the identities of all involved." After 40 years of leading the creation of murals in Chicago, Weber is acutely aware of the power of art to heighten our awareness of who we are and where we belong.
We met with Weber and his collective because Broder–a LEED Platinum real estate developer working on a new construction site in the upscale neighborhood of Lincoln Park, Chicago–had come to us wanting to bring art to that particular site. The 200,000 sq.ft. development is enclosed by a 75 ft. plywood fence. As a mindful developer, Broder was looking for an interactive, playful and family-friendly art piece to brighten the site and add beauty to the neighborhood.
Our aim was to understand Lincoln Park through the lens of community engagement. We proposed a three week process to understand different stakeholders, create artistic concepts inspired by the community and make the art. The final product would be a community-inspired art piece on the construction wall engaging the community and enhancing everyday experiences for people who live and work in that neighborhood.
limeSHIFT put out a call to artists from the midwest that create playful and bright public art pieces. Among them, we considered project proposals by Ruben Aguirre, Don't Fret, POSE, and Mosher Show. Through comprehensive deliberation, the client selected a collaborative concept by artists Ellen Rutt and Patrick Ethen. Their dimensional patchwork concept felt inclusive and bright.
Working with a broad range of community organizations, from the Lincoln Park Community Shelter to the DePaul Museum and the local branch of the Public Library, limeSHIFT held pattern-making workshops where participants got the opportunity to express themselves through art-making. We think of these processes as alternate avenues to awaken the imagination. We also put out a call for people to submit artwork online via social media using the hashtag #LPPMus. All of this content would be used by the artists in the crafting of the final patterns that would make up the mural.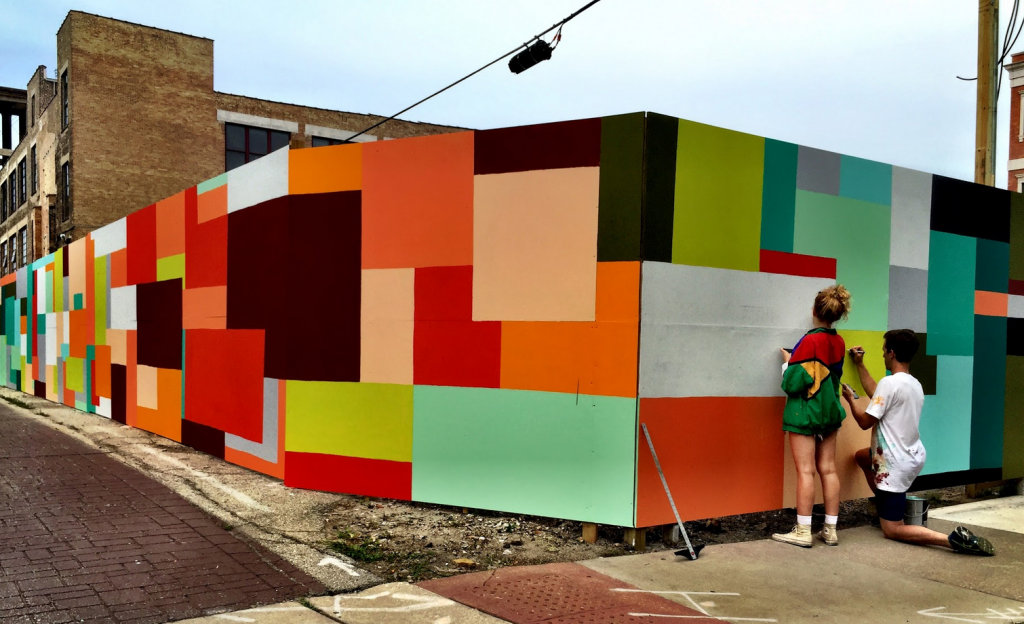 The Lincoln Park Patchwork Mural will exist for 18 months during the construction of the project and will be installed on the property of the completed building for the tenants to enjoy.