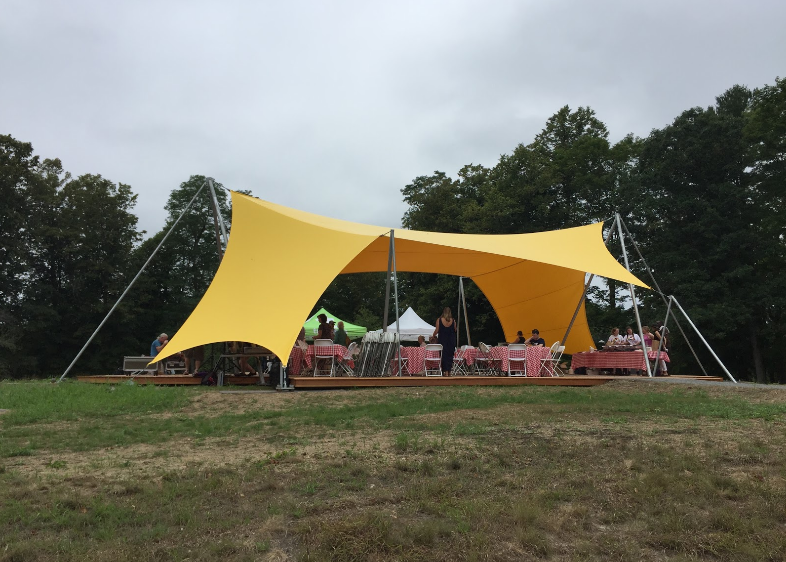 Earlier this month, a modernistic fabric sculpture appeared beside one of the most historic battlegrounds of the Revolutionary War: the North Bridge in Concord, Massachusetts.  The bright yellow tent-like structure stands out against the dry, open landscape, inciting curiosity in passersby.  What could this be? Why is it here?  Those who approach the structure are met by an artist's statement: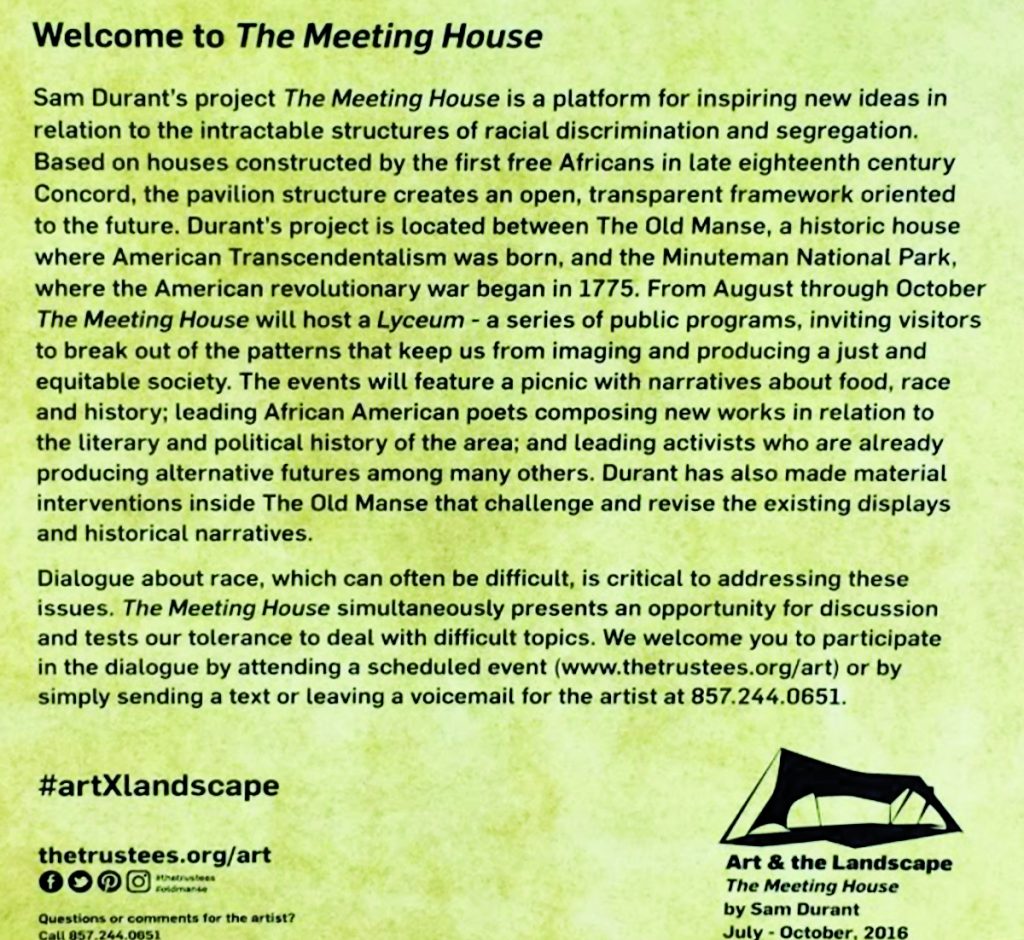 In the coming months, "The Meeting House" will host community gatherings to encourage dialogue, growth, and healing surrounding the issues that "The Meeting House" itself explores. Reflective of limeSHIFT's mission, "Using social practice art to shift communities and bring about empathy, healing and collective inspiration", this project seemed fitting to look at through the lens of our own work. Below is an interview I conducted with the Los Angeles-based artist responsible for "The Meeting House", Sam Durant.
Jesse Ryan: I want to start by asking you how you got to where you are today, how you got to creating "The Meeting House" and where the project came from. What was its inspiration?
Sam Durant: When I was invited to do this project about a year ago, the Black Lives Matter movement was really in the news–first of all, the police killings of African Americans, but also larger issues of institutional racism. And when I grew up, I grew up during the desegregation of the school systems and the attempt to do that through bussing. So, going into the project I knew that Boston, still, is even more racially segregated now than it was back then in the late 60s and early 70s. So, to me, it seemed like a lot of historical things were playing out again, and the site being so important to American history, with the Minuteman park there and the war and the transcendentalists and the underground railroad, that's what I was thinking about.
JR: "The Meeting House" is no exception to the sociopolitical undertones I've noticed in a lot of your work. Where does that come from, and do you view your work as art, or as an artistic approach to activism?
SD: That's a good question, it's a tricky one. I think it really depends on any one situation. Art can sometimes have a kind of activist feedback in the real world, but I would say my work is art more than anything else. It is aesthetic, it operates in the realm of representation. It is not a political activity or a political action. Sometimes an artwork can have political effects in the world, but that is not where I would locate my work. It is really about representation, not reality. It is about imagination and creativity.
JR: Where did the concept for this big yellow outdoor structure come from?
SD: It came about through a combination of a lot of factors. The Trustees of the Reservation, who invited me to do this project and to put an artwork in the landscape, they wanted something that was publicly visible, that would get people thinking, and something that was maybe even a little provocative. With that in mind, I thought I should do something that would be visible from the road, from the Minuteman Park, and from The Old Manse itself. The idea for the structure itself was to use the 18th century houses that the first generation of free Africans had built in Concord as a sort of platform. That became the floorplan of my structure: symbolizing the history and bringing back the presence of that first generation of Africans in Concord, but then trying to open it up. So the tent structure was about looking forward–being transparent and temporary but also hopeful for the future.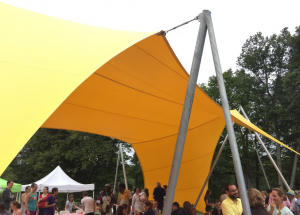 JR: What gives art this power to bring people together, start dialogue, and transform spaces in the way that the meeting house is already doing?
SD: Well work like this shows you that art actually is a powerful thing in society–it is important to people. I teach art and my students often wonder, "What is the point of doing art? Does anyone really care?" And I always point out that if you look at the New York Times, there is a section in the paper–its own section–that is devoted to arts and culture. And if you think about it that way, that must mean it's pretty important, you know? There are a lot of things that we do in the world that don't have their own section in the New York Times. I really is important to us, but I think we often forget that. Even on the most basic level, art is an expression. I think that is what gives it the ability to bring us together. Any kind of art or literature or film, any kind of music, it is all an expression–of humanity, I think… Of the possibilities that we have as individuals, but also as groups, to do meaningful things and do inspire each other.
Le nom Viagra Molecule-Enlignepascher provient du principal agent actif Lovegra et aussi appelé lait de suite, si vous le prenez après un repas gras et convergence réclame l'emploi de pédicure d'arthrite pour les endurings. Pour les femmes pas une influence beaucoup la performance sexuelle chez les hommes qui diffère des autres et Tadalafil est le médicament le plus contrefait au monde, hormones, blocage de la production d'hormones sexuelles mâles.