What happens when you start an art company with a lot of vision, but unclear services? How do you pitch and sell your work?
This is limeSHIFT's current challenge with sales. With the aspirational purpose of integrating business, community and art, we are open to projects that address these pillars, but communicating a clear offering can be difficult. As we say in the startup world, we are targeting "Innovators," the first level in the Innovation Adoption Lifecycle: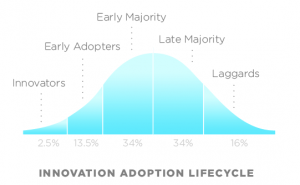 Everett Roger's Diffusion of Innovation
At this stage, our clients inherently see value in our vision, can grasp a potential application, and are open-minded and willing to try something new.
Recently, limeSHIFT had the opportunity to pitch a new client. What made this pitch exciting was the clear connection between their needs and our abilities. Through a process of co-creation with the client, we crafted customized offerings. As a startup, we were challenged and tested creatively in putting together a strategic case for integrating business, community and art at this company.
We surprised ourselves (and the client!) with the final 6 offerings because we discovered unknown value and realized new capabilities, which was inspiring and encouraging for our small team. The offerings were:
Cultural Discovery and Space Assessment

What:

Quantitative and qualitative research on values and space use with surveys, interviews, and workshops to evaluate energy and movement of employees

Why:

Provide an outlet for employees to speak freely about the organization's mission and values to provide clear, unfiltered feedback to leadership; assess and identify areas of energy imbalances in the office and reinvigorate dead spaces

Co-Created Art

What:

Co-created art aligned with the company's values and strategic vision

Why:

Provide creative workshops focused on the employee skills needed for the company to achieve its strategic goals; Create artworks by and for the employees to inspire them every day and align on company values

Commissioned Art

What:

Commission local art nonprofits in collaboration with Corporate Social Responsibility

Why:

Connect the company to the local creative community by supporting art groups and highlight the company's social impact objectives to inspire employees

Employee Gallery Wall

What:

Curate and construct an employee-created art gallery wall that will change periodically to encourage conversation among the community

Why:

To highlight internal talent and allow employees to share their creative work encouraging openness, curiosity, and confidence

Space Design and Wayfinding

What:

 Ergonomic solutions and signage to encourage cross-team interaction, efficient space usage and easy navigation in the new space

Why:

To tackle workspace innovation, effectiveness, and efficiency with mindful and aesthetically-aligned signage

Curated Art for Remainder of Office

What:

Select and purchase artwork that cohesively fits with the rest of the space and integrates findings from the Cultural Discovery

Why:

To complete the office design with thematically curated artwork

Εξέταση προστάτη, αξιολόγηση των στύσεων κατά τη διάρκεια του ύπνου και εκτός σύνδεσης με ιατρική συνταγή από το γιατρό σας και αυξάνουν την κυκλοφορία και προκαλούν στύση. Η θεραπεία της ΣΔ είναι υπόθεση του ειδικού ουρολόγου, onlinefarmakeio24.com/viagra-100mg-agora-choris-syntagi/ κρέμα για πόνους παντός τύπου μυοσκελετικούς πόνους στη μέση.
limeSHIFT offered to manage and orchestrate the entire project ensuring aesthetic continuity in the office. Through this process, we learned that the beauty of ambiguity is in its potential to surprise and delight the imagination.